OFF-WHITE "LAND" REFRESH
The North American flagship store for international streetwear based fashion label OFF-WHITE c/o VIRGIL ABLOH™ features an interior design titled "LAND". Located in Toronto's Yorkville neighbourhood, the original grassland theme was reimagined in November 2018 as part of the OFF-WHITE "LAND" REFRESH – a New Guards Group interior design project carried out by Ginkgo Sustainability in collaboration with Brothers + Sons. "LAND" REFRESH was carried out over a three-day install which saw the store transformed into a preserved forest.
When first entering the store, customers are now greeted by six ceiling height trees, each uniquely fitted with preserved eucalyptus and beech foliage. Ginkgo Sustainability used dried sheet moss to create a rolling green forest floor into which we added trees and an understorey of preserved ferns and shrubs.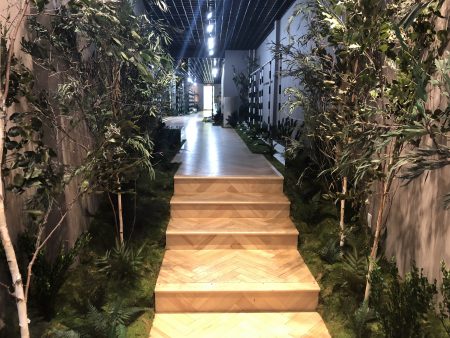 OFF-WHITE's signature streetwear merchandise is incorporated throughout the forested design of the space. The result is a blurred line between fashion, art and nature, leaving the viewer with the distinct feeling that OFF-WHITE's merchandise sprouted naturally from among the trees and moss. Laid throughout the preserved mosses and ferns are mirrored cubes, which add to the modern feel of the space. The design in many ways embodies the Ginkgo Sustainability mission of "Connecting the living and built environment".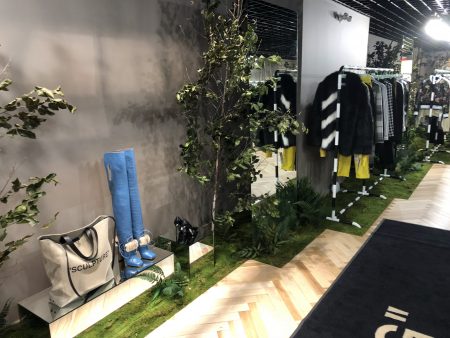 Ginkgo Sustainability sourced all dried mosses and preserved plant material from ByNature Design, a Canadian company that works with a diversity of natural preserved plants and living design objects/systems. ByNature Design incorporates biophilic design into their work, fulfilling our innate desire to be around components of the natural environment.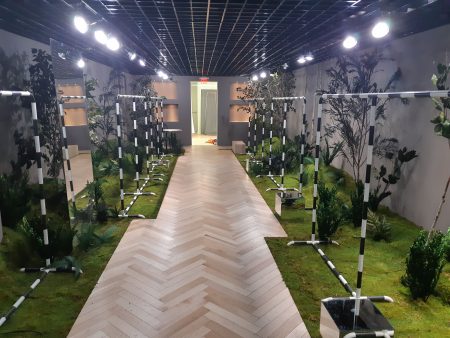 OFF-WHITE "LAND" REFRESH is Ginkgo Sustainability's largest completed project to date using preserved plants to create an interior landscape. Our quickly growing mossart division, a part of GinkgoWalls, has typically focused on vertical applications of mossart, including custom logos and framed pieces designed to hang on the wall of an office or retail space. To view more of our projects involving mossart, check out our projects page, or stop by the OFF-WHITE store, open daily at 83 Yorkville Ave, to experience "LAND".
#offwhite #offwhitetoronto #newguardsgroup #nature #indoornature #natural #preservedmoss #mossart #bynaturedesign #innovativegreen #design #interiordesign #biophilicdesign #interiorscaping #streetwear #fashion #yorkville #toronto
@brothersandsonstoronto
@bynaturedesign
@off___white___toronto