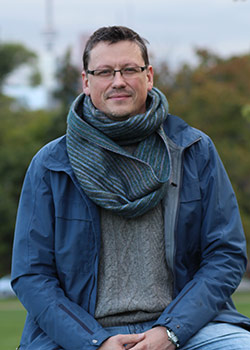 Message from the President
---
Founded in 2010, Ginkgo Sustainability Inc. was born out of a love for the environment and a passion for sustainable business. We are driven by our mission to connect the living and built environments through the installation of living roofs and the installation and manufacture of living walls.
Since our founding, our GingkoRoofs division has installed living roofs throughout Ontario, from the Waypoint Centre for Mental Health Care in Midland, to Exhibition Place in Toronto and the Perimeter Institute for Theoretical Physics in Waterloo. Our GingkoWalls division seeks to replicate the success of GingkoRoofs and is looking to establish a strong foothold in the living wall market.
In the coming years, we aim to continue being the leading living roof installer in Ontario and to position our living walls division at the forefront of the industry. We believe we can achieve these goals through our dedication to high-quality workmanship, our clients, sustainable and ethical business practices, and product research and innovation.
Our team has the depth of experience in the green building industry to realize our clients' projects with excellence and efficiency and to accomplish our business' long-term objectives. We also strive to expand our knowledge through continuous industry learning and study, with the Green Roof Professional accreditation program being one example.
With over 250 green roofing projects completed since 2010 and the development of our GingkoWalls division, we invite you to join Ginkgo Sustainability in connecting the living and built environments.
Christian Mahlstedt
BA, MBA, GRP, LEEDAP
President
Our Staff
---
Christian Mahlstedt

BA, MBA, GRP, LEEDAP

President

Christian is the Founder and President of Ginkgo Sustainability. Before he established GINKGO, Christian worked for a Kitchener-based roofing contractor's green roofing division. Prior to his foray into business, for reasons unknown, Christian completed a degree in Philosophy. When he is not quoting, working with clients and suppliers, or getting his hands dirty on a roof, you may find him running an obstacle course or spending time in the wilds of southwestern Ontario.

Carrie Power

BSc

General Director

Carrie joined in June 2019 as GINKGO's Customer Success Manager. Since then she has taken on the position of General Director and is using her previous corporate experience to quarterback the growing GINKGO team. Outside of work Carrie can be found hanging out with her kids, catching up with friends, or planning her next visit to Ireland (and beyond).

Jenny Moore

BSocSci

Director, Delivery

Jenny joined GinkgoRoofs in 2014 as a Green Roof Technician, moved into a Project Manager role in 2015, and is now GINKGO's Director of Delivery. As Delivery Director, Jenny works with clients and suppliers and helps manage GinkgoRoofs crews. Jenny has worked in many different industries, and countries, and prior to GINKGO, worked as a welder. Outside of work, she enjoys spending time with her dog and travelling.

Bailey Wiebe

Greenspace Managment Dip.

Technical Sales Manager

Bailey joined GinkgoRoofs in the Spring of 2016 as a Green Roof Maintenance Technician and shortly thereafter moved into the Maintenance Manager position. As Manager of the Maintenance Division, Bailey co-ordinates daily operations and performs green roof maintenance. Bailey has extensive horticultural experience and operated her own landscaping business before coming to GINKGO. When not on the roof, the Manitoba native can be found spending time with her dozy dog, watching baseball, and travelling.

Holly Horne

BLA, GRP, CH

Head of Design, Project Manager / Estimator

Holly joined GINKGO in January 2018 and brings with her a degree in Landscape Architecture and over 15 years in the the landscape construction industry. Her wealth of management experience will be valuable as she aims to further develop and expand GINKGO's market presence by capitalizing on her design and horticultural experience. When not designing green roofs, Holly can be found cycling around the city or enjoying a game of beach volleyball.

Sasha Liston-Milnes

Hon. BA, MSc

Project Manager / Estimator

Sasha comes to GINKGO from Calgary where she worked as a Botanist at Green T Design. She brings with her an educational background in Plant Science, horticultural experience, and a commitment to the environment. Outside of work, you may find her exploring the city on her bike.

Donald D'haene

B.L.A.

Project Manager / Estimator

Joining the company in January 2017, Donald brings extensive project management and green roof experience to GINKGO. Donald is part of the Project Management and Estimating teams and helps manage GINKGO's relationships with clients and suppliers. Coming from Belgium, Donald brings with him a collection of language skills and a love of chocolate. He also brings an educational background in Landscape Architecture.

Jordan Richie

BASc, GRP

Project Manager / Coordinator

Jordan began working with green roof systems while completing his undergraduate studies in engineering and has followed this interest throughout his career, as seen in his prior roles as Director of Education and Accreditation at Green Roof for Healthy Cities (GRHC) and as a Research Associate with Environment Canada, where he modeled the effects of living architecture on the thermal performance of buildings. In his position as Project Manager, Jordan works with clients and suppliers to implement living wall designs and participates in research and development projects.

Asma Bashirivand

BA, MES

Product Designer, Biophilic and Sustainability Consultant

Connecting people to the natural environment is a passion of Asma's. Joining GINKGO in August 2020, Asma is sharing this enthusiasm through growing GINKGO's consulting practice by utilizing her knowledge of ecological principles and building design to develop biophilic and sustainable design solutions for our clients.